While I love capturing the world around me, I hate being in front of the camera. Hate it. That's why it's with some tredipation and fear that I join in with Urban Muser's In The Picture project this year, gently exploring self portraiture.
I have noticed I carry a lot of biases about self-portraiture. I could list many reasons that I have kept myself out of the picture in the past. But they are all just a protective facade, designed to keep me safely away from images of myself. What am I trying to avoid?
I guess this year, I'll find out. One image at a time.
A self-portrait opportunity presented itself to me on Saturday, while at the Portland Art Museum. I was in the Contemporary Art Gallery when I noticed the light. The sun had come out, after a rainy morning, and I loved the interplay between the light and the art. I started to capture this painting, Green One by Pat Steir, when I realized the gallery was empty, and there was plenty of space to work. I set up my camera, grabbed my remote and captured a few frames.
It's a safe start, I must admit. I'm abstracted, a silhouette. To an outside observer, the image is not about me as much as it is about a person interacting with art, with the light. I could have taken this of anyone.
But it is about me, to me. About my love of art and painting, about being in an environment that allows me to enjoy it. The image becomes more personal, more meaningful.
Maybe that's the point of self-portraiture? I'm not sure. It's going to take a while to work through my biases and figure out this whole genre of photography, and how it fits for me. This is the start.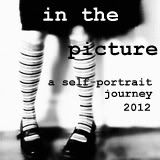 PS – A word about this gorgeous painting! It was so full of texture and subtle color, it is no wonder it caught my eye in the light. You can find out more about Pat Steir and her work here.